Alison Langmead
Received 2017-07-25
Citation: Langmead, Alison. 2017. "en-counter-maps: First Response". Epoiesen http://dx.doi.org/10.22215/epoiesen/2017.2

Alison Langmead is Director, Visual Media Workshop, Department of History of Art and Architecture, University of Pittsburgh (adlangmead@pitt.edu). ORCID: 0000-0002-9159-9797
This piece is a response to Pálsson and Aldred's en-counter-maps
☞
editorial note
The response to this piece was done via the Hypothesis annotation layer for en-counter-maps; to see the annotations in context, which is the proper way to read this response, go to en-counter-maps and toggle the Hypothesis arrow. We have aggregated the links below for archival purposes. In the page below, you may click through the pound sign # to see the annotation in its original context.
---
---
---
---
---
---
---
---
---
---
---
---
---
---
---
---
---
---
---
---
---
---
---
7/25/2017 8:07:25 PM #
impression of objects are not limited to the surface but is also much deeper, below the skin of the object, in its history and personal connections or threads.
I cannot speak to how I may have interpreted these happenings at Æringur 2011.
But from my point of view in this space and at this time, these objects, actions, and transformations are clearly in conversation with time and space themselves, both in their original forms as well as in their representations here.
In their original forms, the impressions and marks exist above and below ground, in memories and in forgetfulness, and in the past, present, and future.
In their web-based forms, they are in photographs, they are encoded. They are in our lived experience both in 2011 and 2017, and they have marked the planet as well as the mind and memory of this reader.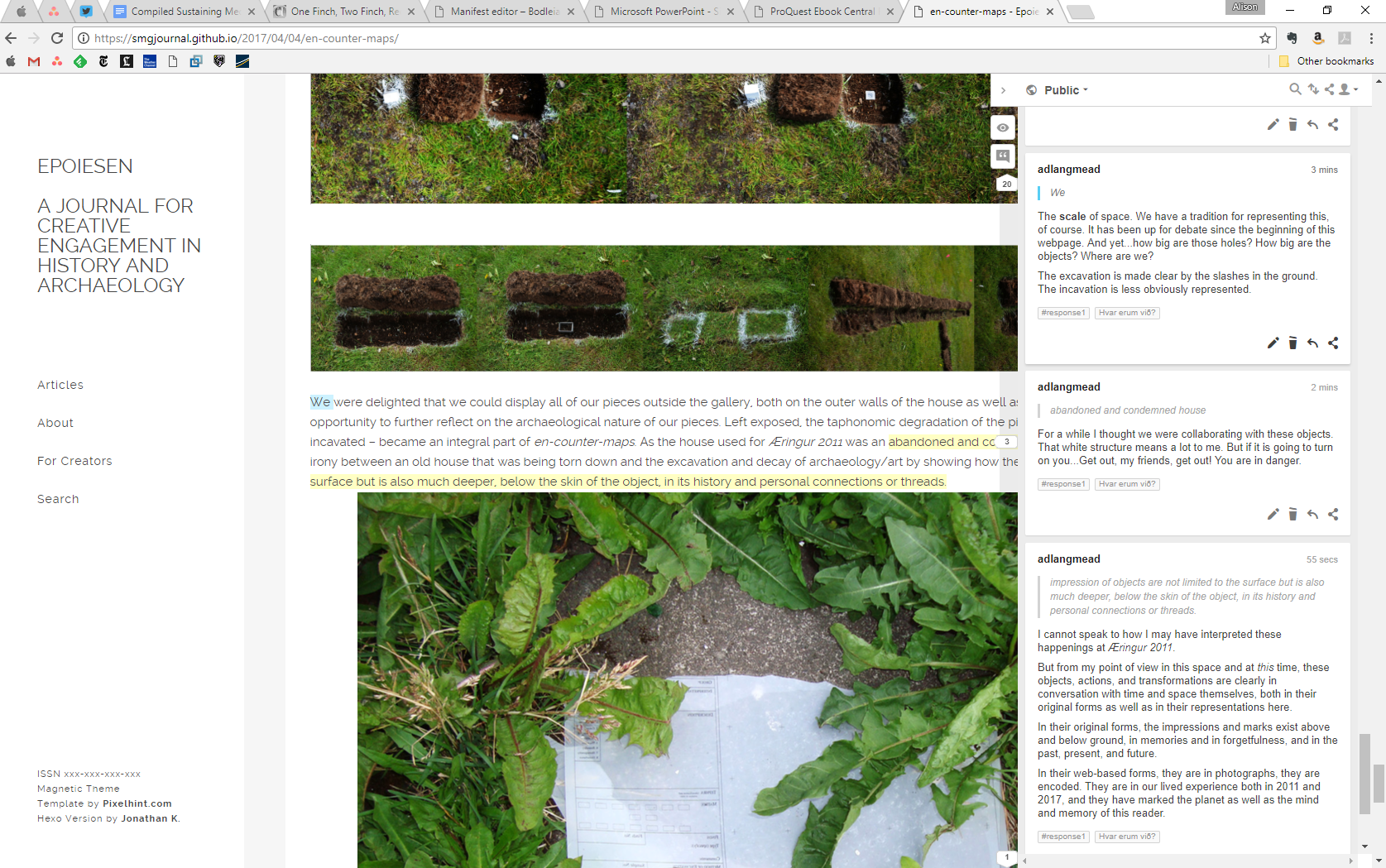 My workspace. Right now.
---
Cover Image "Image taken from page 239 of 'The Seasons, and the Castle of Indolence … With a biographical and critical introduction by A. Cunningham, etc'" British Library
Masthead Image Pálsson and Aldred.